As anyone who breathlessly reads this forum knows, I am new here. Let me introduce myself. I'm Bruce.
I thought I'd share with you some of my inane ramblings from years gone by.
Healthy Faux Mayonnaise
- I came up with this recipe as a healthy substitute for mayonnaise:
Ingredients
1/2 cup Hummus
1 Tbsp. fresh squeezed lemon juice
A squirt of approx. 2 tsp. raw unfiltered honey
Sprinkle with approx. 1/4 tsp. salt
Mix ingredients in a bowl using a fork and then blend with a spoon
The lemon juice softens the hummus and makes it more spreadable. This doesn't taste exactly like mayonnaise, but it's pretty close. It has it's own unique flavor and makes a delicious sandwich spread. And looky here. I even made deviled eggs with it. Yum! Yum!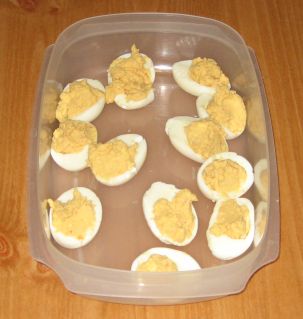 Dangling Dumbbell Curls
- I'm probably not the first to come up with this, but I did think of it independently, so I have a right to name it - "Dangling Dumbbell Curls".
Take a dumbbell in one hand and bend forward, supporting yourself with your other hand braced on something - a table or whatever. Let the arm that is holding the dumbbell dangle. From there, curl the dumbbell up to your chest. This really bombs the ol' biceps! I've been doing this with a fat bar dumbbell, alternating the reps between hammer curls and screw curls - two exercises in one!
Making My Life Easier
- A few years ago I got an apple slicer - the greatest invention since sliced bread. Before getting this, apples, that very nutritious fruit, wasn't high on my list. Slicing and then coring an apple with a paring knife can be a bit of a pain. But with the sclicer, one fell push and you've cored the apple and have eight slices. Ever since getting this thing, I've had apple slices every morning with my breakfast. You may be wondering, "Why not just eat an apple?" One whole apple is too much with the rest of my breakfast. I have a few slices which is just right. The remaining slices go into a Tupperware container for the next day.
And if that wasn't enough, I recently came across something I didn't know exists - a mango slicer! I love mangoes and I had just happened to get a nice, big, juicy organic mango a couple of days previous. As anyone who has ever peeled a mango knows, it can take forever and a day. This slicer just goes right down over the pit and slices the mango in half, creating two bowls full of mango. I gave one half to my wife and we ate the mango out of the "bowls" with spoons, like ice cream. Since then we have been having delicious, healthy mango everyday.
Assist Pullups
- At some point in my late forties, pullups began hurting my elbows. I'd let them heal and then start again and then hurt my elbows again, so I had to give up that exercise. Now days I sit on the floor with my legs spread out. I reach up and grab hold of a pair of handles, let my legs go limp, and do pullups. I suppose I'm using about 60% of my bodyweight which enables me to do as many pullups as I can without hurting my elbows. Even if someone can do a fair few pullups, I think this exercise would be beneficial.