I have been doing some research on the Swedish strongman/wrestler Charley Hackenschmidt.
His real name was apparently John Berg (died 1924) and he also went by the names Charles/Charley Hackenschmidt and Young Hackenschmidt.
In Nat Fleisher's 1936 book
From Milo To Londos
he says that "John Berg, a Swede, who adopted the name of Charley Hackenschmidt". So Charley Hackenschmidt was Swedish.
The mystery is this newspaper clipping of Charley Hackenschmidt from 1917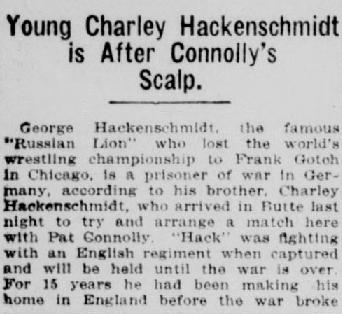 Online here with a photograph
https://chroniclingamerica.loc.gov/lccn ... -1/seq-12/
It says Charley Hackenschmidt was the brother of George Hackenschmidt but he never had a brother with that name.
There is a profile for John Berg here but not much exists about him online. Berg held the World Light Heavyweight Wrestling Championship in the late 1910s.
https://www.wrestlingdata.com/index.php ... tler=20354
My questions are, why did he use the names Charles/Charley Hackenschmidt or Young Hackenschmidt? Was this to cash in on George Hackenschmidt's fame and success? But most importantly why would he claim to be his brother when that information is obviously not true?
Can anyone help with this mystery?